Well, well, well. Guess it's back for another round of summer loving and summer dumping along with the boozing. Guess that means I'm back as well with my reviews of the "sunniest" shows of all time.
First off, I just love when Chris Harrison knows that we all think that every season is the MOST dramatic season of all time when in reality at times, it turns out not to be. His emphasis is on point with that though.
Also, regarding the whole DeMario/Corinne situation that happened prior to this season actually airing and almost stopping the whole season from actually happening. Because it happened a while back and I feel as though a lot of people have said their fair share regarding the situation, I won't speak too much about it and will go right into the Bachelor Paradise drama that occurs during this episode.
Before I move forward though, the opening with Vinny kicking the lamp and Amanda running away from pizza. I have to admit, that is pure genius right there haha.
Ah, let the games begin.
So I honestly expected a lot more to happen during this episode from the way the producers set it up regarding the Corinne/DeMario situation and just how they set up the previews. However, I was a bit disappointed to see that there wasn't much going on. To be honest, it was almost a boring episode. There were little things that happened here and there, but other than that, eh.
We didn't get too much of Corinne/DeMario honestly, just them frolicking in the pool and other things that are pretty normal. I didn't expect them to show EVERYTHING, but I felt like they were making things a lot more exaggerated in the previews regarding the situation and that they were going to show the circumstances that led up to the controversy. Oh well. Moving on.
The dates that happened weren't that interesting either. Just a 5 minute showing of each date and them saying how they like each other and whatnot, blah blah. I feel like I've seen it all.
"Every time he brushes his hair, I'm going to take a drink."-Raven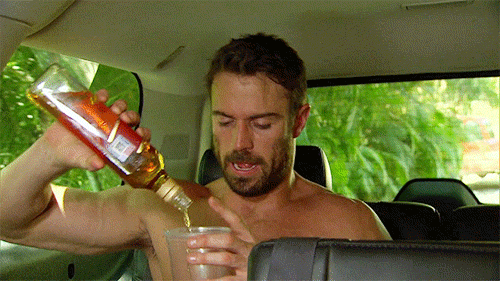 Ha, the whole situation between Robby and Raven. So funny. I'm actually really proud of her for not really falling for his charms and whatnot and for her being like nah, not that interested in him. Then with  Ben Z and his dog, even though it was edited to make it look like he was talking strictly about his dog for however many minutes, I still loved that moment because I'm such a dog person. I might not have a dog YET, but I love dogs, so that pretty much made me swoon. However, I'm not really sure if I dig Ben Z and Raven, so we'll see what happens after they return to paradise.
As for the other couples, Kristina and Dean and Matt/Jasmine/Nick the Claus, eh… We'll see more of them later on too. There just wasn't much going on there except their dates and little tuffles between Jasmine and Nick the Claus because he got hammered and couldn't talk to her so she pretty much ditched him for Matt the Penguin.
Iggy and Lacey, there wasn't much there either, they were sort of into each other and then her family situation came up and she left and may return and yeah… Just puts him on the chopping block there along with the rest of the other guys with no connection.
And as for Taylor and Derek, I sort of think they're cute albeit people thinking they were boring. I hope we get to see more of their relationship develop each and every episode. I don't know, we'll see what else paradise has in store for these people. Any who, I didn't have too much to say this time because really, there wasn't much that happened because it took almost 30-40 minutes for all of the cast to even arrive. That's all for now.
Au Revoir my readers.
Thanks for reading ❤