Phantom's Dance by Lesa Howard
My rating: 4 of 5 stars
Thanks to the author who provided me with an e-copy of this story in exchange for an honest review.
Ballet dancer Christine Dadey is working towards her goal of becoming the best ballet dancer possible and to join a great ballet company later on. She attends the Rousseau Academy in order to do just this. However, something had occurred to her during her audition for the Rousseau Academy professional company and many people are doubting her ability to become more than she is. She soon doubts everything about dance; however, Eric, a former ballet dancer who lives in the shadows wants to help her achieve her dream. There is more to Eric though than meets the eye (this is a bit ironic) and Christine may find herself in a more dangerous situation than she ever though possible.
This was such a different read from previous books that I have already read and I really didn't know what to expect. I was extremely ecstatic though that the book was great. I really like the premise of the story and now I want to watch the Phantom of the Opera. The characters were all likable except for a few who were questionable. Christine was a bit shy, but she didn't hesitate to speak her mind when necessary which was good and I like Jenna because she didn't judge Christine for her actions and was there for her every step of the way; now that is true friendship. I liked Ms. Z as well surprisingly because she did want to help Christine become the best that she could be unlike other teachers.
This was my reaction for what happened between Christine and Eric.
Random, but in honor of Robin Williams: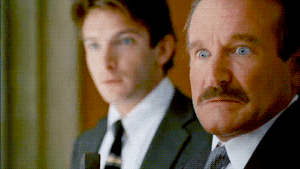 I was a bit scared as well for Christine. WOW. Just Oh my goodness! I can't believe what happened to Christine. I was in total shock. Eric was such an obsessed creepy. I got the chills just reading about the things he did. He was an obsessed stalker who truly was disillusioned by everything that had happened to him in the past. I'm getting the chills just by sitting at my desk right now and typing this review. Anyways, beyond that point, I sort of felt sorry for him at one point, but after finding out who he truly was, I was a bit mind blown. I was truly shocked and just wanted him gone. He was truly disillusioned though.
Sometimes getting revenge isn't the best way to satisfy yourself and it isn't right to use it to try to relive the past. It's better to let it go and find happiness for yourself.
Eric really needed to do that, but he let his anger and all of his emotions get the better of him and make him do things that were just horrible. All in all, this was a different read that I did like.